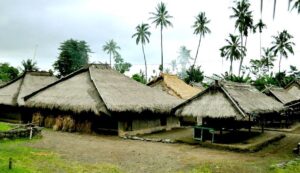 Describe : Senaru Sasak village is located in hillside of Rinjani mount just 50 m, from Rinjani National Park lodge. Amount of family head has lived in this village is only 20 family head. The roof of sasak house like a mount, which facing downward with 1,5-2 meters distance from base land. The roof and its cam made from seagegrass and its wall made from bamboo matting and only there is one small size of its window. and All materials to build a sasak house are from the environment around them, no nails or tool of metal is used. Each house is between 4 to 6 meters long , what unique about the house is that the floor is a mixture of clay, rubber tree and dark victory, ashes of burnt straw, then oiled with buffalo dung or horse at the top floor.
Rice field ( Bangket Bayan )
Describe : Senaru village is located in hillside of Rinjani mount just 50 m, from Rinajani Bangket bayan is the words taken from sasak language that mean rice field in Bayan village,Bayan village is based on Bayan-North Lombok, West Nusa Tenggara province, Indonesia. Rice field ( bangket ) is the place of them to growing crops, and draping theirs life. In growing crops they are assisting each other, without must to pay a labour as that is theirs custom when they will to plow up they still used traditional way by two cow and theirs result of crops have found they will to sell as forbidding from their culture. Besides becoming cultivation Bangket Bayan also has strong tourism fascination because it has beautiful view, quiet.
Sendang Gila & Tiu Kelep Waterfall
Sendang Gila Waterfall
Describe : Sendang gila waterfall is located on 600 m, above sea level and it has more or less 35 m length, this waterfall has owning two different level , where the first level emerge from the big hole of high bank then fall to the small pool it around 15 m length . And the second level jus flow of the first level waterfall it has 25 m length, this river base relative level off, that's way many people has taken bath under the waterfall, this waterfall located in Rinjani national Park.
History :
The name of this waterfall taking from local resident story that by not intentionally found this waterfall while hunting a mad lion which intrude in a countryside and then run way in to the jungle.
And which the other interest is all resident has believed that this waterfall has magic which can make someone a year younger than actual age and can curing various diseases . And also this waterfall no so far from the others waterfall as like Tiu Kelep Waterfall and Batara Lenjang Waterfall.
TIU KELEP WATERFALL ( second waterfall )
Describe : Tiu Kelep waterfall is one of tourism object in Lombok and it very famous, as it has wonderful view different with else waterfall in Indonesia, its water douched that direct to based land and make a big pool around waterfall, its water flow by 40 m length, but if you want take swim there you have to careful, don't try to take shower under the big one.
History :
According local society the name of Tiu Kelep take from Sasak language that mean pool fly, And most of dwellers has believed that this waterfall has magic which can make someone a year younger than actual age and it can curing various diseases
Location :
Located in Senaru Village, Bayan District, North Lombok Regency, West Nusa Tenggara Province, Indonesia.
Old mosque ( Masjid Kuno bayan )
Describe : Old mosque ( Masjid kuno bayan ) is a mosque located in Labuan Lombok street, Bayan village-North Lombok, West Nusa Tenggara, Indonesia or around 80 minutes from downtown of Mataram. This mosque built on 17 century that mean its age more than 300 years and became the firs mosque built in Lombok island as In religion of Islam is the first time residing in Bayan district. The form of this mosque is not so differing far from many houses around and it has only 9 x 9 meters size, the wall of this mosque made from bamboo matting, its roof arranged from blades of the bamboo while the foundation made from rill stone, besides the floor of this mosque has made from clay which closed by reed mat. Each corners of the mosque there are 4 main pillar for sustaining this mosque and made from jackfruit wood.
Itinerary :
Day 1: we'll pick you up et your hotel or home stay by your guide then escort you to Senaru Sasak village for explore the life of sasak people and theirs houses form you can enjoying this village an hour, then after that we'll continuing our trip to Sendang Gila and Tiu Kelep waterfall only 30 minutes walks from senaru sasak village, in this waterfall you get relaxing, take shower or take swimming et the second waterfall and your body will refresh again you can enjoying this waterfall 2 hours than the next trips is Bayan rice field ( Bangket Bayan ) it is about 1,5 hours minutes from Sendang Gila waterfall but we have crossing stream river and little up hill toward rice field ( Bangket Bayan ) , arrived in rice field you can take long rest 1 hour at small lodge surrounding of rice field while eating biscuits or snack, after that continuing to old mosque in Bayan village for 1,5 hours walking and half hour for explore the mosque then we'll pick you up et old mosque by the car and the car will transfer you to your hotel, finish service.
Including :
• English speaking guide
• Ticket entrance fee
• Food and water
• Transportation
Excluding :
• Camera
• A fair of Shoes
• Small beg
• Donation
• Tips for a guide