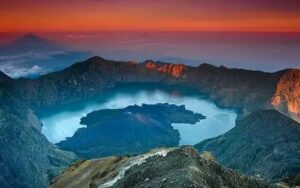 Description : Rinjani trekking 3 Days program is designed specially for real trekker (advanced). Participants must be at good level of fitness and have several mountain climbs experiences, its very challenge for every trekker and this trek start from Sembalun village, ending in Senaru village, lets do it with us.
(Sembalun Village – Crater Rim – Summit – Senaru Crater Rim – Senaru Village)
Arrival Lombok – Transfers to Hotel : Arrival at Lombok Airport , or any others port in Lombok as Lembar/ Bangsal harbor , Teluk Kodek or maybe from any main object tourist among ( Mataram, Senggigi, Kuta lombok,3 (Gilis Trawangan, Meno, Air) and will pick up by our representative staff, then transfer to your hotel in Senaru where is the place you can meet with your trekking guide and porters then will briefing and explain the trekking procedure and prepare for your trips, Waterfall Sindang Gile and Tiu Kelep can be seen if you arrive min 1 hour min, before the sunset , Free at Leisure. Welcome Dinner with our staff Note : stay over night before the trek in Senggigi can be arrange on the request and then leave your hotel at 5.30 am.
Type of trek : ( Fully organized (combination of adventure, leisure, safety ) Individual or group departures are available upon request.
Highlights :
( Sembalun crater rim, Summit Rinjani, lake, hot spring, Senaru crater rim, Senaru village )
Tour Itinerary :
Day 01:Senaru Village- Sembalun Village (1.150.m) – Sembalun Crater Rim(2.639.m) :
Wake up at 6.00am and get breakfast at 6.30-40 and our special mountain car will ready to bring us to sembalun village for 45minute /1 hour ,arrive here approx 8.00am then Registration in Rinjani Information Center (RIC) 1051 m and start the trek to Pos 1 (Pemantauan) 1300 m, walking time is about 2 hours. We take a rest for 5/10 minute at Pos 1 ( pemantauan,) and then continue to Pos 2 (Tengengean) 1500 m walking time about 1 hour. We take short break here for 5 to 10 minutes at Pos 2 ( Tengengean ), and then we continue our journey to Pos 3 (Pada Balong ) 1800 m, walking time is approx 1 hour. We rest for 2 hours at Pos 3, then your guide and porters prepare for lunch, and a hot drink (tea, coffee, hot chocolate or lemon tea). After lunch and a rest, we continue to heading Sembalun Crater Rim (Pelawangan Sembalun) 2639M, walking time 3 hours including a prolonged steep climb. We will camp the night at Sembalun Crater Rim, then from here we can enjoy the awesome views. As the sun sets, and sunrise for the next morning , Segara Anak lake, Sembalun village, the summit of mount Rinjani half of nort lombok can be seen from here.
Day 02: Sembalun Crater Rim(2.639m) – Summit/Top 3.726m – Segara Anak Lake and Hotsprings (2008m)- crater rim Senaru : We wake up at 02:30 am and have some light breakfast then leave at 03:00 am we start the trek to heading Rinjani Summit (3726 m). Walking time approximely 3 hours and 20 minutes. The first stage is a moderate climb for 120 minutes, while the second stage is a fairly easy but long trek. The last hour is very steep and difficult. (There are many loose stones, and as you take two steps forward you will slip one step back). From the Summit, you can see all of Lombok island, Bali, Sumbawa and Segara Anak Lake. After sunrise we will go down to the Sembalun crater rim and have a hot breakfast. After breakfast and a rest, we will go down to the lake and hotsrpring the trail down is very steep and slippery beware and extra carefully we need 3 hours to get in to the lake and hotspring, the lunch will be provide by the lake and hot spring just 100m walk from the lake then we will explore the lake and swimming bye hotspring soak in and healing your skin as medicine during on the lake fishing bye the local people can be arrange here too,then climb to Senaru crater rim 2.641 m for camping and sleeping with your own dinner here.
Day 03: Senaru Crater Rim(2.641m) – Senaru Village (601m) : After breakfast and enjoying the sunrise, and taking the picture with beautiful scenery of the lake we will go down to Senaru village for 4-5 hour back down and including break and lunch on the way between pos2 or pos extra ,then we will arrive at senaru Rinjani Trekking Centre around 12.30am to 13.00 then our private car will bring to your next destination as ( Gilis island, senggigi, Mataram or Lombok international airport) good luck end of service.
Estimation time:
Lombok Airport – Senggigi approximately 1,30 minutes by private car
Lombok Airport – Senaru village approximately 4 hours by private Car
Lembar – Senaru village approximately 2,5 hours
Mataram / Senggigi – Senaru village approx 2 hours
Tluk Kode / Bangsal Harbor – Senaru village its about 1, hour 30 minutes
Gilis – Bangsal harbor 30 minutes approximately by public boat.
Price including:
A night accommodation in Senaru before the trek,
Return pick up & transfer with Full AC Coach
Entrance fee to Rinjani National Park IDR : 30.0000
English Speaking Guide + Local porters
Full board meals; breakfast, lunch, dinner, supper for going to summit, coffee or tea, hot chocolate, snacks, fresh fruits,bread.
All camping equipment; double size camping tent, mattress, sleeping bags, dinning tent, portable toilet, etc.
Daily water consumption from safe drinking bottled water
trekking certificate ( on request )
Price excluding:
Head lamp /hand torch
Small bag pack/daily pack
Trekking shoes
Trekking jacket
Ticket airplane
Extra porter for own luggage
Long pants/trousers
cash tips for guide and porters
NOTE :

·      Begin from 1st January 2017, Entrance fee to Rinjani National park is IDR 30.0000/day/ trekker for normal day, and IDR 225,000/day/ trekker in weekend day ( day off ), before the ticket for National Park only IDR 150,000/trekker / trips

·      + USD10/PERSON ADDITIONAL CHARGE FOR ENVIRONMENT HYGIENE CARE ( BRING TRASH DOWN )