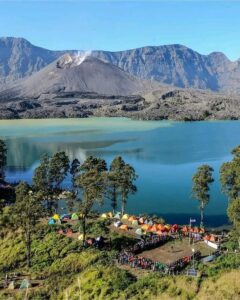 Rinjani 4 Days Via senaru
Description : Rinjani 4 Days Via senaru , This program is designed specially for enjoy trekker. Participants must be at good level of fitness, its very challenge for every trekker and this trek start from Senaru village, ending in Sembalun village, lets do it with us.
(Senaru Village – Senaru Crater Rim – Lake – Sembalun Crater Rim – Summit – Sembalun Village)
Arrival Lombok – Transfers to Hotel : Arrival at Lombok Airport , or any others port in Lombok as Lembar/ Bangsal harbor , Teluk Kodek or maybe from any main object tourist among ( Mataram, Senggigi, Kuta lombok,3 (Gilis Trawangan, Meno, Air) and will pick up by our representative staff, then transfer to your hotel in Senaru where is the place you can meet with your trekking guide and porters then will briefing and explain the trekking procedure and prepare for your trips, Waterfall Sindang Gile and Tiu Kelep can be seen if you arrive min 1 hour min, before the sunset , Free at Leisure. Welcome Dinner with our staff
Note : stay over night before the trek in Senggigi can be arrange on the request and then leave your hotel at 5.30 am.
Type of trek : ( Fully organized (combination of adventure, leisure, safety ) Individual or group departures are available upon request.
Highlights : ( Senaru crater rim, lake, hot spring, caves, Sembalun crater rim, Rinjani summit )
Tour Itinerary
Day 1 :
Our guide will pick you up at hotel lobby at 05.30 am then transfer to Senaru. Register at the Rinjani trek center (RTC) in Senaru (601m) early in the morning, and arrange national park entry tickets. The RTC staff briefing explains the route details, local cultural traditions and what you might see, and lists rubbish management and safety procedures. The first hours of the trek climb steeply through thick tropical forests rice in flora, bird life and a variety of butterflies. You might see orchid and, if lucky, the rare black ebony leaf monkey, known locally as Lutung. Rest stops are taken along the way, and at Pos 2 Montong satas shelter (1,500m). Village stories and local legends are related by your guide. Features include the banyan tree Bunut Ngengkang that looks like someone standing with their legs apart, and the Batu Penyesalan stone. Depending on your preference and weather conditions, the night's camp is made either in the forest at pos 3 Mondokon Lolak (2,000m) after about five hours climb from Senaru, or continue the ascent for another couple of hours through grassy meadows to Plawangan 1 Senaru crater rim at 2,641m from the crater rim are sweeping views across the lake Segara Anak (2,000m) to the summit of Mt. Rinjani. On a clear evening the Gili isles, Bali and Mt. Agung can be seen to the west. Camp – Dinner – Overnight.
DAY 2 :
After breakfast, down to the lake Segara Anak (2,000 m) within the Rinjani crater. The trek route in this point is steep and rocky. Your guide and porters will assist and give you extra attention. Mt. Baru (2,351m) is an island in the lake and an active volcano, last erupting dramatically in 1994. Going down the ridge passing numerous Edelweiss plants Bunga Abadi to the crater rim camp for a well-deserved lunch. It takes two to three hours down the steep trail to the crater lake and day 2's camp. The rest of the day is spent relaxing, swimming in the lake and exploring the caves and pilgrimage hot springs, believed to have healing powers.
DAY 3 :
Leave the lake and climb for three hours up to Plawangan Sembalun. Lunch served on the way. Rest and prepare yourself for an early morning three-hours hard climb to the summit (3,726 m). Dinner – Camp (Stay overnight) at Plawangan Sembalun.
DAY 4 :
After a well prepared breakfast, with the gentle ascent walking amidst the pine-like Casuarinas species locally known as Cemara, perhaps seeing evidence of wild pigs and the long-tailed grey macaque monkeys. Resting at Pos 3 Pada Balong (1,800 m), enjoy a lunch break here. We reach Pos 2 Tengengean (1,500 m) to enjoy the beautiful views of Mt. Rinjani summit (3,726 m). Gentle walk continue through open grassland used as cattle grazing by local people to the Resting shelter at Pos 1 Pemantauan (1,300). The trek ends at Rinjani Information Center at the road head in Sembalun Lawang, where the car is waiting to transfer you to the airport or Senggigi.
Estimation time:
• Lombok Airport – Senggigi approximately 1,30 minutes by private car
• Lombok Airport – Senaru village approximately 4 hours by private Car
• Lembar – Senaru village approximately 2,5 hours
• Mataram / Senggigi – Senaru village approx 2 hours
• Tluk Kode / Bangsal Harbor – Senaru village its about 1, hour 30 minutes
• Gilis – Bangsal harbor 30 minutes approximately by public boat.
Price including:
• A night accommodation in Senaru before the trek,
• Return pick up & transfer with Full AC Coach
• Entrance fee to Rinjani National Park IDR : 150000/Day/Person
• English Speaking Guide + Local porters
• Full board meals; breakfast, lunch, dinner, supper for going to summit, coffee or tea, hot chocolate, snacks, fresh fruits,bread.
• All camping equipment; double size camping tent, mattress, sleeping bags, dinning tent, portable toilet, etc.
• Daily water consumption from safe drinking bottled water
• trekking certificate ( on request )
Price excluding:
• Head lamp /hand torch
• Small bag pack/daily pack
• Trekking shoes
• Trekking jacket
• Ticket airplane
• Extra porter for own luggage
• Long pants/trousers
• cash tips for guide and porter
Price per person in USD
NOTE :

·      Begin from 1st January 2017, Entrance fee to Rinjani National park is IDR 150000/day/ trekker for normal day, and IDR.150000/day/ trekker in weekend day ( day off ), before the ticket for National Park only IDR 150000/trekker / trips

·      + USD15/PERSON ADDITIONAL CHARGE FOR ENVIRONMENT HYGIENE CARE ( BRING TRASH DOWN )