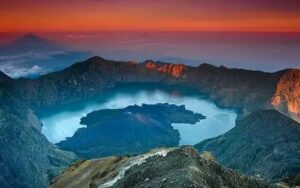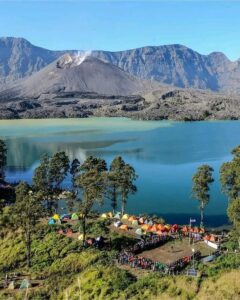 Amazing Rinjani Trekking 3 Days
Day 1: Senaru Village (601 m) –  Senaru Rim (2.641 m)
At 07:00 our guide will pick you at hotel lobby and transfer to the start point, register and briefing by our guide will be conducted at Rinjani Trekking Center (RTC) before start to trekking. The first 30 minute walking at open view with plant green coffee, cacao, banana tree, etc around the way until the starting of forest (Pintu Senaru).  Break for few minute then continue entering rain tropic forest that rich in flora with light steep trek approximately 2, 5 hours.  Sound of bird is heard, grey and black eboney leaf monkey that known as Lutung, variety of butterfly are life here. Rest stops are taken along the way at Pos 1 Pemantauan (915 m), Pos extra (1.165 m) or anywhere until Pos 2 Montong Satas (1.500 m) as place for lunch break. After break for 1, 5 hours continue to the end of the thick rain tropic forest at Pos 3 Mondokan Lokak (2.000 m) for 2 hours with same trek like before. Last 2 hours trek to rim (2.641 m) at open view at grassy meadows, this is the real trek with steep hill, the trail are little sandy for 1, 5 hours and stony for 30 minute at the end. You will find the great moment of your life from senaru rim view. The lake stretches, with beautiful Gunung Baru jari (2.351 m) at the center of lake, great peak of Rinjani mount (3.726 m) eastern and Spectacular sunset over the three 3 Gili and peak Mt. Agung of Bali. Dinner and overnight with stars shine are taken here.
Day 2: Senaru Rim (2.641 m) – Lake & Hot Spring (2.000 m)
After breakfast and enjoying the sunrise, that the time to start go down to Segara Anak Lake (2000 m), the route is steep down with stony and deep ravine at right. Those ways your guide will give extra attention so don't go head too far from the guide. On the certain way your guide will give his hand to you to help.  This trip will end at lake after 2 – 2, 5 Hours walking. Break for few minute while prepare the swim suit then continue to explore cave and hot spring, walking for 10 minute to next side of the lake and we will see the hot spring. Swim and enjoying the hot water in the small natural pool that believed can heal the several of diseases especially the painful of your muscles after long trek.  After swim go back to the lake, enjoying the lunch that have been served by our porter while looking at the beauty of lake, Gunung Baru (2.351 m) at the center of the lake and the scenery around and then explore the cave next a Hours from the lake and overnight at the lake.
Day 3: Lake (2.000 m) – Senaru Rim (2.641 m) – Senaru Village (601 m)
After breakfast at 06:00 – 06:30 am, leave the lake  to get the Rim approximately time 3 Hours,   break and get energy by eating some biscuit or cookies then go back to Senaru, go down approximately 1, 5 hours at down steep trail to get the Pos 3 Mondokan Lokak (2.000 m) for lunch break. Then continue to the end of this trip in Senaru village at approximately 4 hours through the rain tropic forest and last 30 after forest. Our car is waiting to transfer you to your next destination. Say thank you and enjoy your next holidays.
Price Include
In and out transport around Lombok area,
1 night accommodations before or after trekking (optional)
Food and beverage
3 Littre of mineral water/person a day.
Tent,airbed mattress, sleeping bag, pillow and toilet tent
Guide and porter
Entrance fee for Mt. Rinjani National Park IDR 150/person.
Certificate (On Request)
Donations
Price Exclude
Head lamp/hand torch
Trekking shoes
Trekking Jacket
Air plane ticket
Extra porter for own luggage (Standard Service)
Daily cloth
Stick
Tipping for guide and porter.
NOTE :
·      Begin from 1st January 2017, Entrance fee to Rinjani National park is IDR 150000/day/ trekker for normal day, and IDR 150000/day/ trekker in weekend day ( day off ), before the ticket for National Park only IDR 150,000/trekker / trips
·      + USD10/PERSON ADDITIONAL CHARGE FOR ENVIRONMENT HYGIENE CARE ( BRING TRASH DOWN )